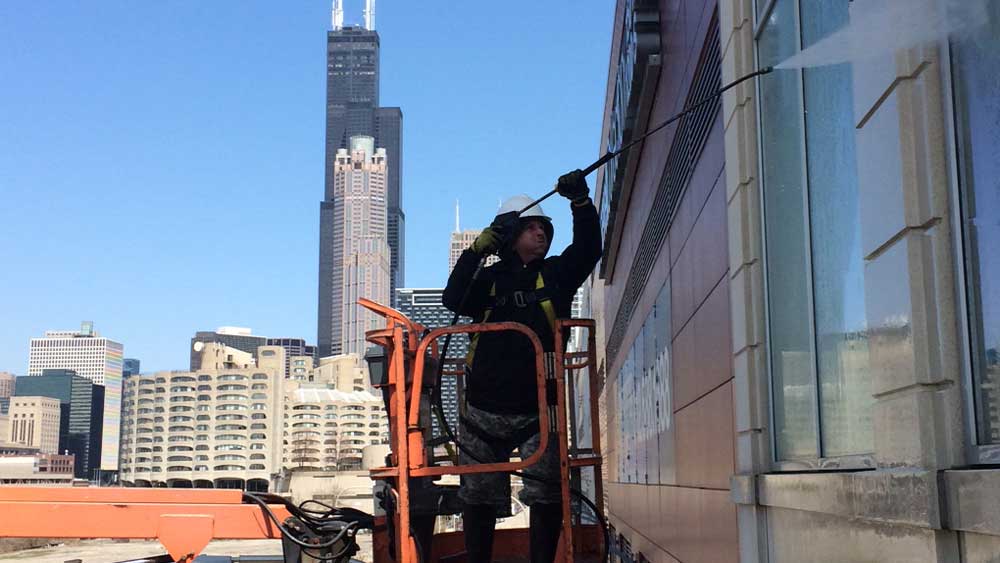 No matter what type of property you own or manage, from shopping centers and office buildings to your personal home, you have chosen to make a significant investment in property ownership. From the city to the suburbs, the exterior surface areas (brick, CMU, stone, precast concrete, vinyl siding, etc.) of your building are going to naturally start to appear soiled and dirty. Fortunately, when the right cleaning process is applied, power washing to clean your building and restoring its appearance is safe and effective.
Experienced professionals, like Ace of Spray, use hot-water pressure washing equipment to remove the build-up of dirt, grime, and mildew. Knowing the appropriate amount of pressure to apply and what detergents are formulated to address more heavily stained areas of your property is critical towards not just the cleaning of your outside walls, but also to ensure that no damage accidentally takes place. The big box stores are heavily promoting to the DIY crowd and make it all seem so simple to do yourself. The truth is that we have been hired by plenty of customers after their own attempts have ended up damaging their property. Improper use of a power washing machine can lead to etching or other negative results compromising the integrity of the building material. Not all these failed attempts can be easily restored. What was at first a simple cleaning project, can lead to much more expensive replacement cost. There is also the potential harm an inexperienced person can bring to themselves.
The other issue property managers and owners should consider is that most exterior building materials are porous. It's all too common to see architectural designs where ledges accrue dirt and when mixed with rainfall, the runoff creates streaking down from their edges. Left to sit long enough and what could have been easily rinsed away with power washing, may now become a more involved process with brushing and detergents. As with most property maintenance endeavors, being proactive in caring for your buildings can save you money in the long run.
Since 2001, Ace of Spray: Professional Pressure Washing has been providing high quality and affordable facade cleaning services to commercial and residential clients. If you have a project that you are considering, call on the experienced and caring power washing team at Ace of Spray.