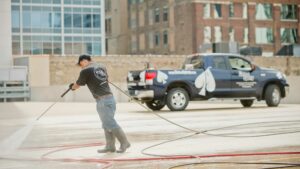 In the realm of commercial maintenance issues faced by facility managers and property managers, pressure washing is somewhat of an acquired taste. Those that have not identified its value tend to ignore it unless an event occurs that forces the issue. Graffiti removal, excessive build-up in a trash corral or even a warning from a municipal property inspector can be catalysts for the hesitant. However, our experience shows that once these reluctant customers see the results of our efforts, the doors for more opportunity open. Areas of neglect suddenly become targets of aesthetic improvements.
All your exterior, flat, hard surface areas are automatically subject to the natural build-up of dirt. Sidewalks, drive-through lanes, loading docks and parking garage floors cannot avoid pedestrian and/or vehicular traffic that unavoidably tracks in dirt onto these surface areas. Add in the potential of gum, spilled beverages, leaking auto fluids and what was just a darkened concrete area now has become a collage of ugly stains. Ignore them for too long and they can penetrate the surface area and potentially become permanent. I can guarantee you that committing to power washing with some regularity is a lot cheaper than eventual concrete replacement.
Since 2001, Ace of Spray has been working hand in hand with owners of shopping centers, office buildings, parking garages and retail/restaurant chains to provide a simple service aimed at resolving these issues. A proactive power washing program with set routine cleaning can help stop a high concentration of staining. The frequency required will vary on the asset type and volume of traffic, but our commercial grade hot-water machines coupled with highly trained field technicians will make sure we recommend a program that provides complete value.
If you are in need of a power washing contractor or are interested in learning about the unique capabilities of Ace of Spray, please call us today. Our team is ready to assist you and show you just how good a power washing company can be.